Everett Lee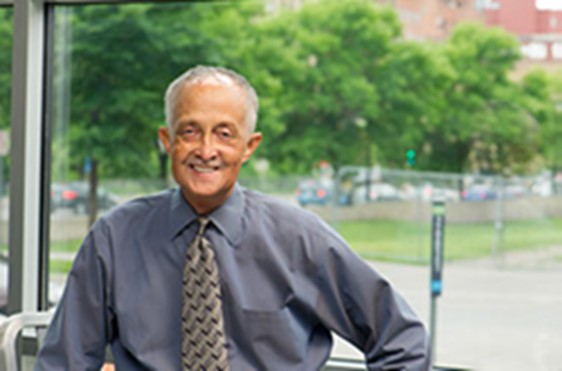 Everett in Minneapolis in 2014 for a volunteer meeting
Remembering Dedicated Volunteer, Everett Lee
If you had to sum up Everett Lee's commitment to the National Marrow Donor Program® (NMDP)/Be The Match® in one word, it would be "Amazing." Everett wasn't just a long-term volunteer, he was a transplant survivor, which fueled his enthusiastic contributions in nearly every corner of our organization.
From 2006 - 2013, Everett served on the Patient Services committee, Patient Advisory group and the Diversity and Disparities advisory group. As a Peer Connect volunteer, he provided guidance and support to other patients going through transplant and as a Resource Liaison, he made visits to his local transplant centers to educate staff about our programs. He also co-facilitated survivorship support groups and reviewed patient education materials for us (he and his family were even featured in some materials).
Suffering from acute myeloid leukemia, Everett received a blood stem cell transplant in 2002. He understood the importance of protecting access to and expanding coverage for life-saving blood stem cell transplants. And because of that, he was an exceptional legislative advocate, having recently travelled from Dallas to Minneapolis to be trained as an ambassador.
In addition, he participated in a project funded by Patient-Centered Outcomes Research. As a member of a working group, Everett reviewed research articles, shared his personal experiences and helped plan presentations on the findings for the project, "Engaging Patients in Developing a Patient-Centered Hematopoietic Cell Transplant Research Agenda." He is co-author on a manuscript submitted to the Biology of Blood and Marrow Transplantation.
As if the aforementioned doesn't already prove his amazing contribution to our organization, Everett also helped raise funds for the Be The Match Foundation® by participating in two Be The Match Walk+Run events in Dallas.
With much sadness, we recently said goodbye to our star volunteer; Everett Lee died on December 23, 2018. "Everett gave so much to our organization, yet one of the ways he impacted us most was demonstrating how to live a full life despite adversity," shared Katie Schoeppner, supervisor, Counseling Services, NMDP/Be The Match. She added, "Everett encountered many complications post-transplant and met each of these with grace, humor and a commitment to make the most out of each and every day. He will be missed."
You can volunteer in Everett's honor. Find an event near you.